"Stepping into the unknown, my artistic practice walks in unexpected directions and at a different pace.
Perpetually morphing and reconfiguring, in the unexplored corners and in the between, it grows and flourishes. It is exactly there that my UPOs – Unidentified Performing Objects – find space to exist. 
These non-objects reject categorisation and pre-existing definitions. They are equally familiar and uncanny and can be experienced as portals, providing direct access to the multiverse that inhabits us.
While taking a walk on the wilder side, vibrant colours meet the eyes, while our bodies begin to move and perceive a space that we were not aware existed before. 
Dismantling simplistic and reductive binary readings, my practice offers a glimpse of a multi-layered and multi-dimensional reality. In this realm, fluidity, queerness, inclusion, magic and kindness are encouraged and celebrated.
Walking in someone's else shoes, for me, is not only an opportunity to view things from another point of view but it is also a meaningful experience of otherness. 
And my works, are ultimately trying to do so. Providing alternative readings to what we think we know and contributing to the creation of a better-shared reality."
Luca Bosani (he/they  b.1990, Rho, IT) is a neurodivergent, gender-non-conforming artist. In the last two years, he developed his identity and personality as TLSB private investigator & UPO specialist. 
Taking the cinematographic stereotype of the private investigator (e.g. Humphrey Bogart as Philip Marlowe), Luca dismantles this hyper-masculine identity to introduce a queer private investigator in drag.
As a private/public investigator in drag, Luca works for a fictional company (TLSB), compiles regular Reports for them, wears uniforms daily (currently a red outfit), works with talented colleagues (detectives, artists, musicians) and is constantly busy trying to solve intricate conundrums.
Often operating through live collective investigations, Bosani's practice is in an open conversation with the history of sculpture and performance, bringing an innovative and experimental contribution to the mediums.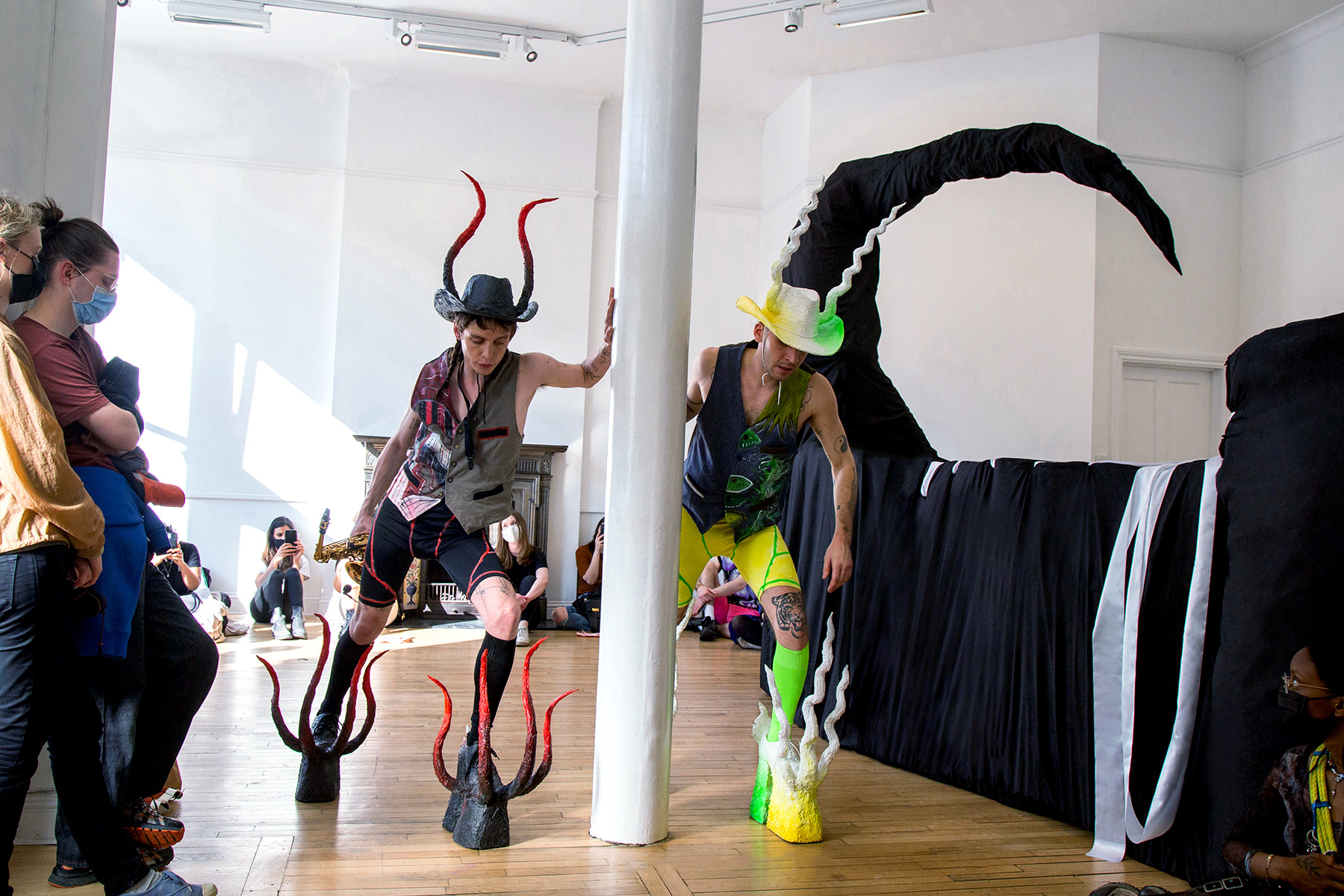 2015-2017   MA Contemporary Art Practice (Performance), Royal College of Art, London, UK
2014-2015   History of Contemporary Art & Performance, Accademia di Belle Arti di Brera, Milan, IT
2013-2014   Higher National Certificate in Fine Art,  Kensington and Chelsea College, London, UK
2013            Foundation in Fine Art, Slade School of Fine Art, London, UK
2009-2012   BA Interior Design, Politecnico di Milano, IT
C0043: Queering the Mind, Releasing the Body, Nine Elms & Battersea Council, London, UK
UPO SHOP, Hypha Studios, London, UK 
Round Trip,  MASSIMO x SPAZIENNE, Fabbrica del Vapore, Milan, IT
MUDI, Cocoricò, Riccione, IT
I don't know what I want, but I want it now!, APT Gallery, London, UK